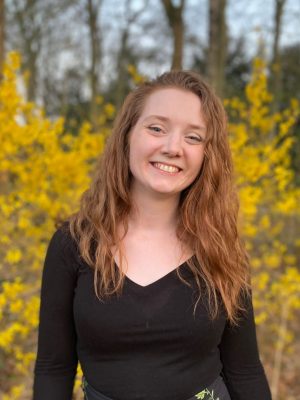 "Less Bitter, More Glitter" 
Hello lovely Dondrite members (or future members).
I'm Jeanne, your PR manager. I'm in charge of promoting Dondrite as an association and making sure you know about our wonderful events. I also do my best to take care of this beautiful website. I am also the supervising board member for both the Scribe & Activity committee. I consider myself very lucky to be able to be involved in so many parts of Dondrite. I joined even before my introduction week and it was a fantastic decision. Dondrite really helped me to get settled in the Netherlands and in the CNS masters by having such warm and welcoming members who quickly became my close friends.
Outside of Dondrite & the masters I have a weird mix of hobbies. I love to embroider while watching TV/movies and also play dungeons and dragons twice a week. I love to be outside (but not in the rain) and enjoy hiking, cycling, bouldering and yoga. You can also often find me in the cat cafe in Nijmegen because I cannot currently have pets of my own. I love to chat with people so if you see me around please do approach me and start a conversation, I'll be delighted.